Proudly Providing
Leading HVAC Services
To The Greater
Vancouver, WA Area
Air Conditioning
Contact Us Today for AC Services in Vancouver, Brush Prairie, Battle Ground, Ridgefield, Camas, Washougal, Yacolt, Ariel, La Center, Amboy, Kalama, Longview, WA
Heating
Contact Us Today for Heating Services in Vancouver, Brush Prairie, Battle Ground, Ridgefield, Camas, Washougal, Yacolt, Ariel, La Center, Amboy, Kalama, Longview, WA
Indoor Air Quality
Contact Us Today for IAQ Services in Vancouver, Brush Prairie, Battle Ground, Ridgefield, Camas, Washougal, Yacolt, Ariel, La Center, Amboy, Kalama, Longview, WA
Heat Pumps
Contact Us Today for Heat Pump Services in Vancouver, Brush Prairie, Battle Ground, Ridgefield, Camas, Washougal, Yacolt, Ariel, La Center, Amboy, Kalama, Longview, WA
Ductless
Contact Us Today for Ductless Services in Vancouver, Brush Prairie, Battle Ground, Ridgefield, Camas, Washougal, Yacolt, Ariel, La Center, Amboy, Kalama, Longview, WA
All Around Mechanical provides some of the best in HVAC home comfort solutions in the surrounding area.
Our team is all about the customer experience and is focused on what the customer really needs to provide the best in air conditioning, heating, and indoor air quality for their family.
Our team is Nate certified and well trained to provide the best in HVAC services for the community.
Residential air conditioning
and heating
Commercial air conditioning
and heating
New Construction air conditioning
and heating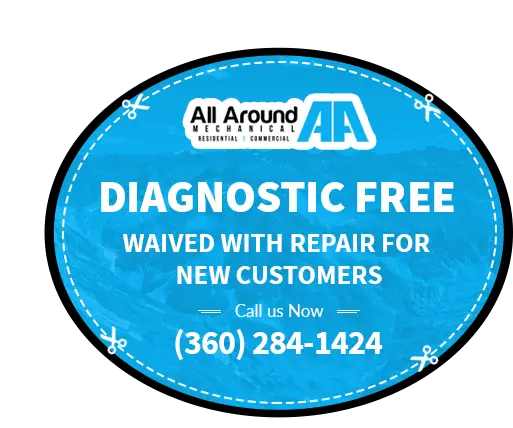 *Disclaimer: Promotions not accepted on New Construction Project
Judith B.
This is a company that knows all the meanings of the word SERVICE. In our experience they are best: best prepared, best organized, best at communicating with their customer, and best at doing the actual job of repairing a faulty air conditioning unit. Top to bottom professionals.
Tami C.
Adrianne is always so caring, and responsive. They have always been wonderful to work with. I highly recommend them to anyone needing service. Our AC was leaking and the technician Jonathan found the problem right away and fixed it. We will always call them the next time we need service.
Hannah O.
Jonathan C was amazing to work with. He was so helpful, arrived early, communicated everything and fixed the issue very quickly! Thank you so much, Jonathan!
Mark P.
I have used All Around Mechanical for service for the past 5 years. They are always friendly, professional and extremely proactive in scheduling a technician as early as possible.
Colleen G.
Came to the rescue (within 1 hour) during these wildfires to install an air purifier in our HVAC, (which I highly recommend doing), so that our system was able to remove the smoke. We were breathing easy again in no time. Headaches gone. I cannot thank you enough!!
Color B.
First, we spoke with Adrian in the office very courteous and professional she then set us up with an appointment to have a free quote, Then Adam came out and gave us a couple of different options. Which choose the that was best for us which was a new complete ...
LIMITED SERVICE SURROUNDING AREAS
LIMITED SERVICE SURROUNDING AREAS
LIMITED SERVICE SURROUNDING AREAS